Product Information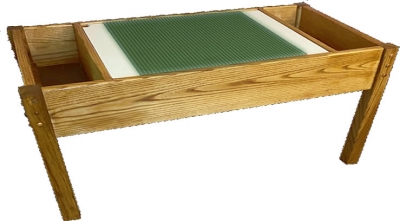 Imagination OAK - White
Lego Table
Model -
Tahoe Large Lego
Table Dimensions :
L:
48" x
W:
24" x
H:
18"
Made of solid Oak (Red or White - our choice) the Tahoe Lego table will take any beating your young ones can give, while adding a touch of class to any room it is in.
Finished in Tung oil and sealed with Polyurethane our Tahoe Lego tabel will last for years to come.
Upgrade to the Tahoe Coffee table at anytime by ordering the solid Oak Top our Tahoe lego table would be a nice addition to any College dorm room in later years.
The Tahoe Lego Table comes standard with a center flip activity plate with the following:
Included with all Imagination Tables:
Lego Base Plates
Chalkboard
Checker/Chess Board
Chess Pieces
Checker Pieces
Deck of Game Cards
Mystery activity or game
A Clip to attach Color or Painting paper to center Flip plate
Table Ordered may look slightly different from
Table Pictured as each table is individually made.
All Tables are made in the USA.
Table Price:
$249.00
Payment Plan option:
$83.00 for 3 Months
No credit checks
Total price will be sligthly higher depending on your states sales tax.
Click here to Select a different product